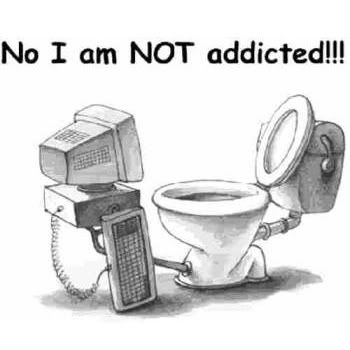 In the world of social Media, Blogging, Twittering, Facebook(ing), Plurk(ing), Stumbl(ing) are what we do. These are great things ... for those of us who do it, however if you are still living in a cave and are not sure what it is all about, then talking to an 'addict' can be a bit strange.
Here's why:
1. You know what the word "
FODDER
" means and can correctly use it in a sentence, more than once a day. (as in blog fodder)
2. Activities in your house are determined based on '
blog-worthiness
.'
3. When having a conversation with a non-blogger, you ask them if you can use 'their story' because it would be
REALLY FUNNY.
4. You now speak in
140 character
(or less) sentences.
5. You inadvertently find yourself using "
Txt speak
" when writing non-text related items (
and your not 16)
. "OMG-LOL-Srsly?-Oh Mah Holy Hell..."
6.You look at your husband and say with all seriousness "
The Elf Restroom was funny, but I've already used that one...can you come up with something original AND funny... I need something new for NEXT WEEK!
"
7. Your kids have no idea just how much blackmail you are going to have on them when they are 16.
8. You compose blogs and tweets in your sleep.
9. You find yourself checking your crackberry/iPhone/Computer every time you pass it to see if there has been any new updates in the last 5 minutes.
10. You've never met them, but you feel like you know your 'friends' better than some of your 'in real life' friends.
If you can answer
yes
to more than 2 of the above, you might just be

addicted to Social Media

. (I am)
Are you an addict?